NEJE 3 Plus Laser Engraver & Cutter
NEJE 3 Plus  Features: 【NEJE 3 Plus N40630】 Widely Engraving and Cutting Ability:NEJE 3 Plus laser engraver has 7.5W pulse power and 0.08x0.08mm focus, 5.5W continuous output power, and has a...
Description
NEJE 3 Plus
 Features:
【NEJE 3 Plus N40630】
Widely Engraving and Cutting Ability:NEJE 3 Plus laser engraver has 7.5W pulse power and 0.08x0.08mm focus, 5.5W continuous output power, and has a widely range of engraving and cutting capabilities. N40640 it is a very cost-effective module. Suitable for hardwood, glass, rubber stamps and image engraving of materials such as stone, usually also suitable for cutting 3-5mm plywood and other materials, (engraving and cutting of materials with greater hardness need to increase air assist).
Large Engraving Area:255 x 420mm for cutting and carving of Black acrylic, wood, MDF, leather, paper and cotton etc.More applicable materials for more professional DIY enjoyment. Giving more fun than fun in the process of engraving works in discovery, and also enjoy the best cost performance.
Safety Protection:Safety is always the top priority. The engraving machine comes with a protective panel to block more than 90% of the leaking light and built-in MEMS Roll protection. When the engraving machine is running, the built-in gyroscope will record the working position at the beginning. In the event of an accidental touch or machine shift, the machine will automatically stop working to prevent an accident.
Easy Operation & Nice Results:Mostly per-assembled as a professional engraving tool, it just required 4 screws to complete installation. Multi-functional keys can adjust to resetting, frame positioning, starting and stopping. Smart to use thickness board that can adjust the focus to a fixed postion. Higher precision and easier to use. Listing provides how to correct installation of the machine and download of NEJE Software videos. Enjoying your first engraving discovery. 
【NEJE 3 Plus A40640】
Top Engraver Capability:NEJE A40640 dual-spot engraver module, 10w+ continuous pulse output power, the minimum focal length can reach 0.04mm. The engraving speed can be as high as 20000 mm/min, and the maximum cutting thickness can be up 20mm. The module can clearly engrave grayscale images on stainless steel surfaces
Applicable Engraver Materials:The A40640 module can directly engrave ceramics, MDF, coated glass, black acrylic, plywood, brushed stainless steel, stone, bamboo, leather, rubber, alumina, solid wood and more than 100 kinds of materials.Please note that engraved reflective materials require black paint on the surface
MEMS Vibration Protection & High Accuracy:Under the protection of the MEMS vibration protection sensor, the engraving and cutting processes can be completed at the same time.When the device is working, the MEMS gyroscope will automatically record the device's status to prevent accidental touch. It features 2400 x 5600 pixels, 0.075 mm dot pitch, 338 dots/inch, and 0.0.1 drive accuracy.
Advanced Laser Module
Portable Professional Control Software:With 32-bit control system, the fastest move speed can reach 1500mm/s, and it supports LaserGRBL, Lightburn, NEJE software, and NEJE APP (Android, iOS, iPad, macOS). 
Specification:
【NEJE 3 Plus N40630】
Module: NEJE A40640
Focus: 0.04x0.06mm
Focus method: adjustable ( Recommend 30-55mm )
Optical power: Pulse 12W+, CW 11W
Replaceable lens design: Yes
Stainless steel direct grayscale engraving: Yes
3D hardwood engraving: Yes
Maximum cutting thickness: 20mm
Wavelength: 450nm
Weight: 204g
Module Size: 40x50x85 mm
Input: DC 12V 4A
Interface: 4pin PH2.0 
Compatible with: NEJE 3 Max, NEJE 3 Pro, NEJE 3 Plus, NEJE 2s Max, NEJE 2s Plus, etc...
Power control: PWM Power Modulation
Fan: double ball high life fan
Drive: NEJE smart quiet drive, built-in static elimination technology. 
Surge protection: Yes
Smart feedback: Yes
Temperature feedback: Yes
Temperature control: 45℃
air pump: 0.5-1.5mpa clean air (Needle type air nozzle supports oily and water-containing air source, and sealed air nozzle can only use clean air pump)
Air interface: 4mm pvc trachea
【NEJE 3 Plus A40640】
Module: NEJE A40640
Focus: 0.04x0.06mm
Focus method: adjustable ( Recommend 30-55mm )
Optical power: Pulse 12W+, CW 11W
Replaceable lens design: Yes
Stainless steel direct grayscale engraving: Yes
3D hardwood engraving: Yes
Maximum cutting thickness: 20mm
Wavelength: 450nm
Weight: 204g
Module Size: 40x50x85 mm
Input: DC 12V 4A
Interface: 4pin PH2.0
Compatible with: NEJE 3 Max, NEJE 3 Pro, NEJE 3 Plus, NEJE 2s Max, NEJE 2s Plus, etc...
Power control: PWM Power Modulation
Fan: double ball high life fan
Drive: NEJE smart quiet drive, built-in static elimination technology.
Surge protection: Yes
Smart feedback: Yes
Temperature feedback: Yes
Temperature control: 45℃
air pump: 0.5-1.5mpa clean air (Needle type air nozzle supports oily and water-containing air source, and sealed air nozzle can only use clean air pump)
Air interface: 4mm pvc trachea
Details:
【NEJE 3 Plus N40630】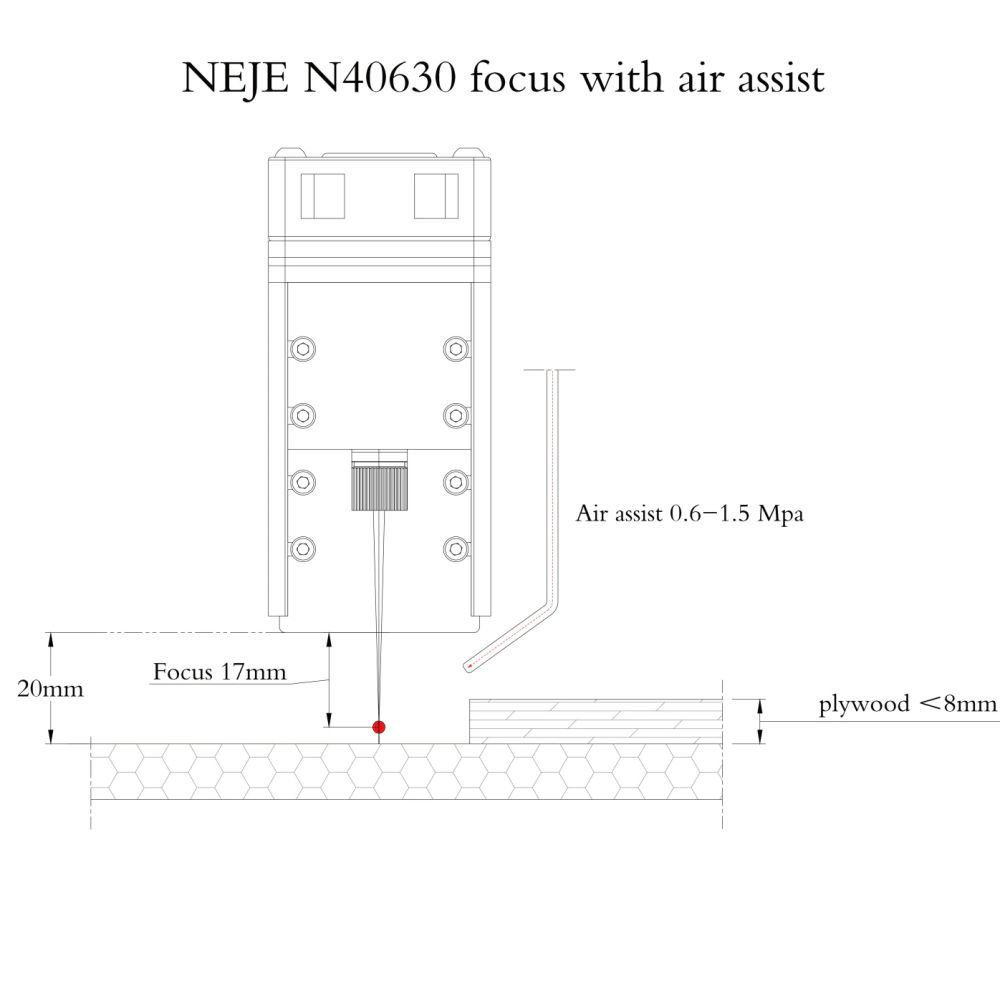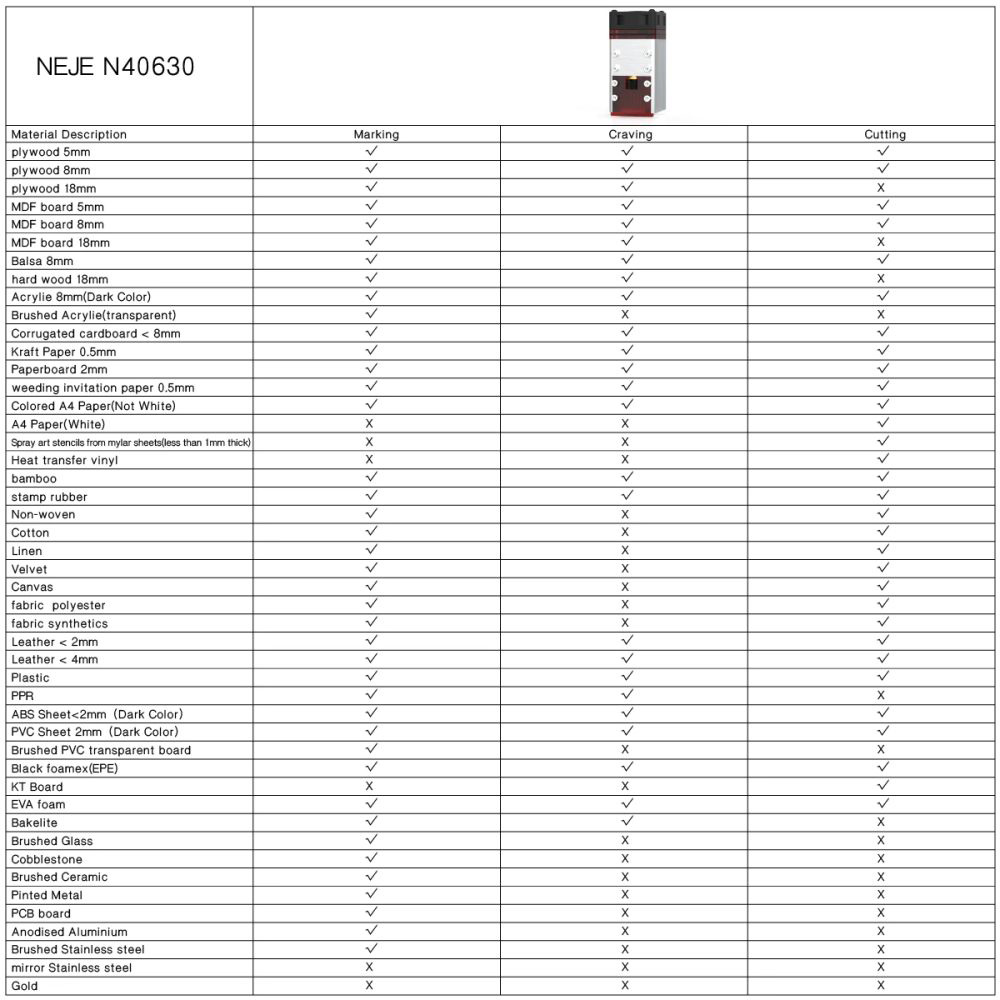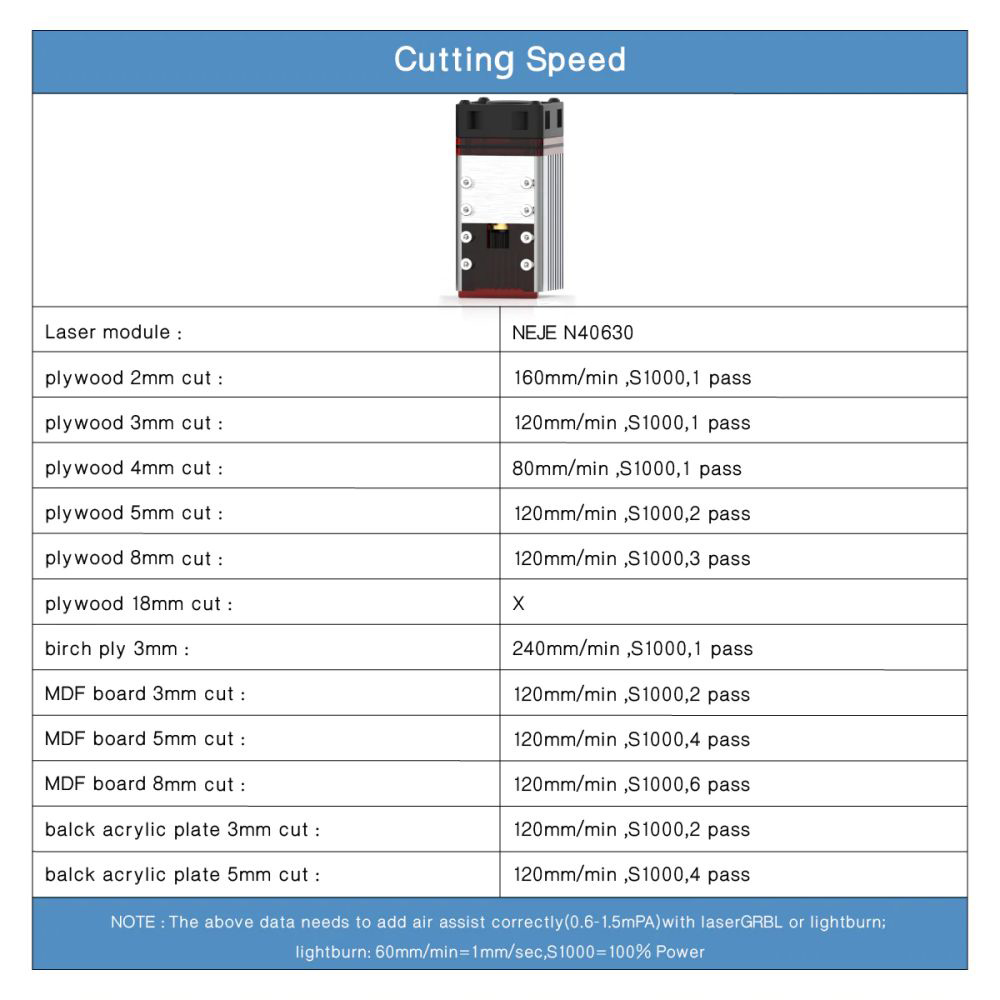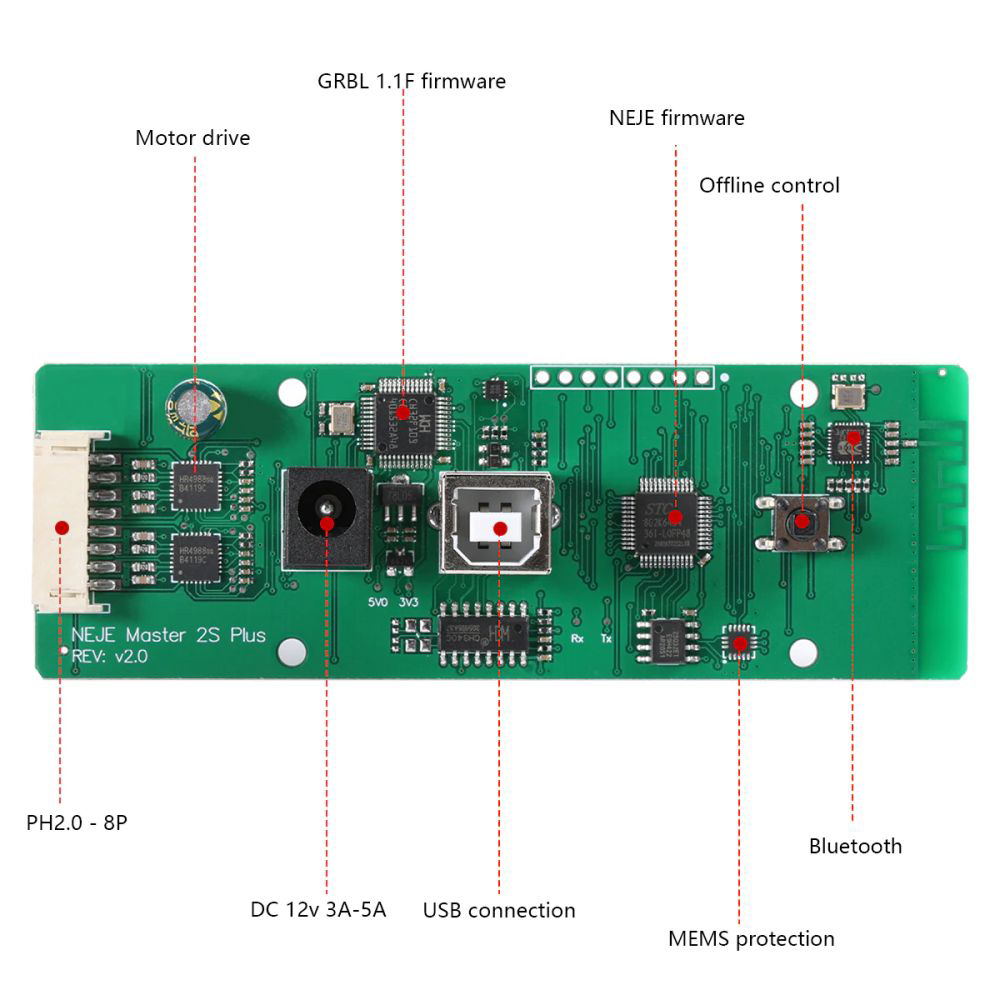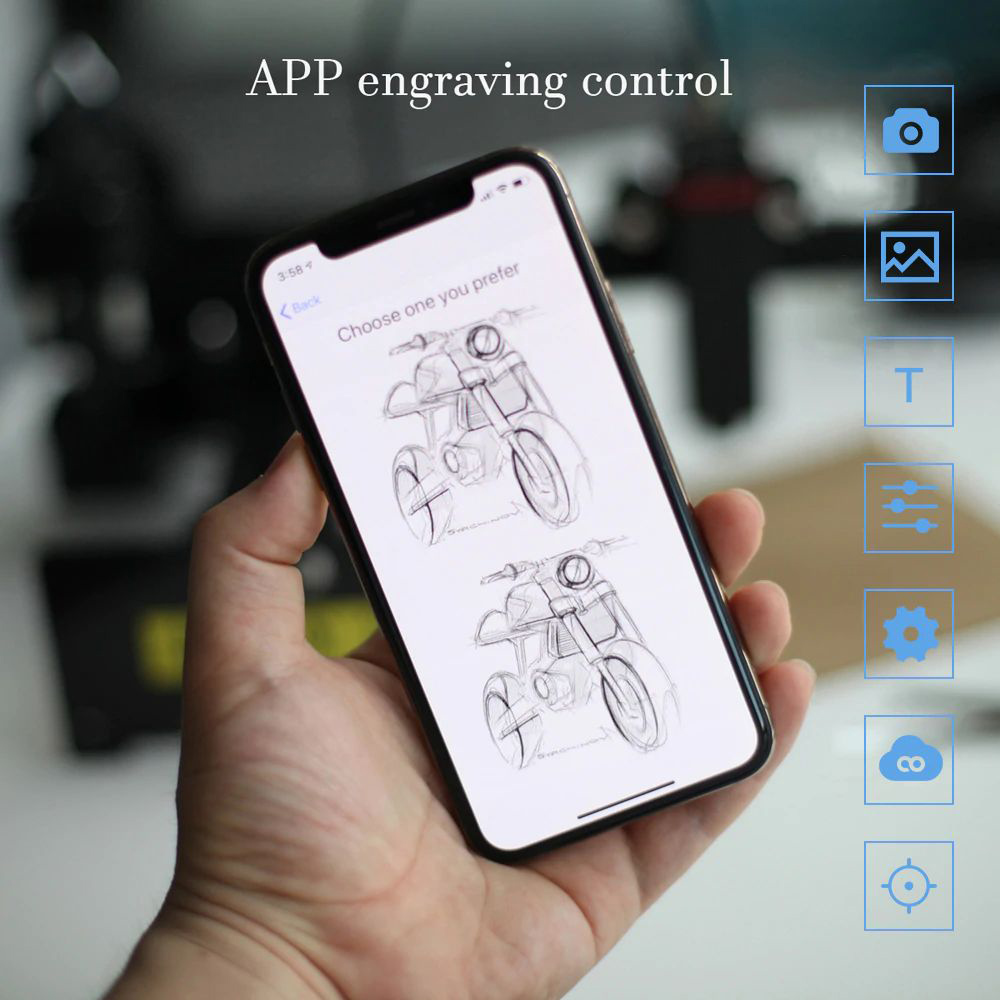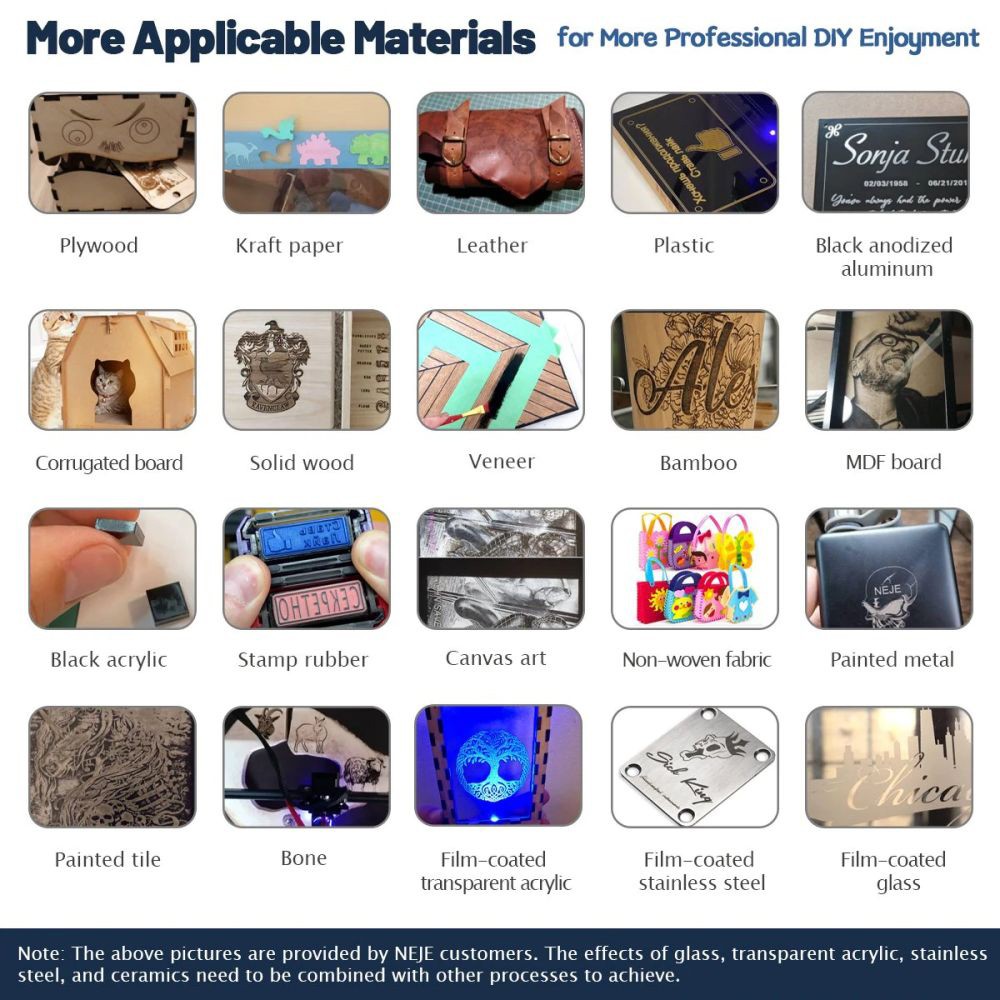 【NEJE 3 Plus A40640】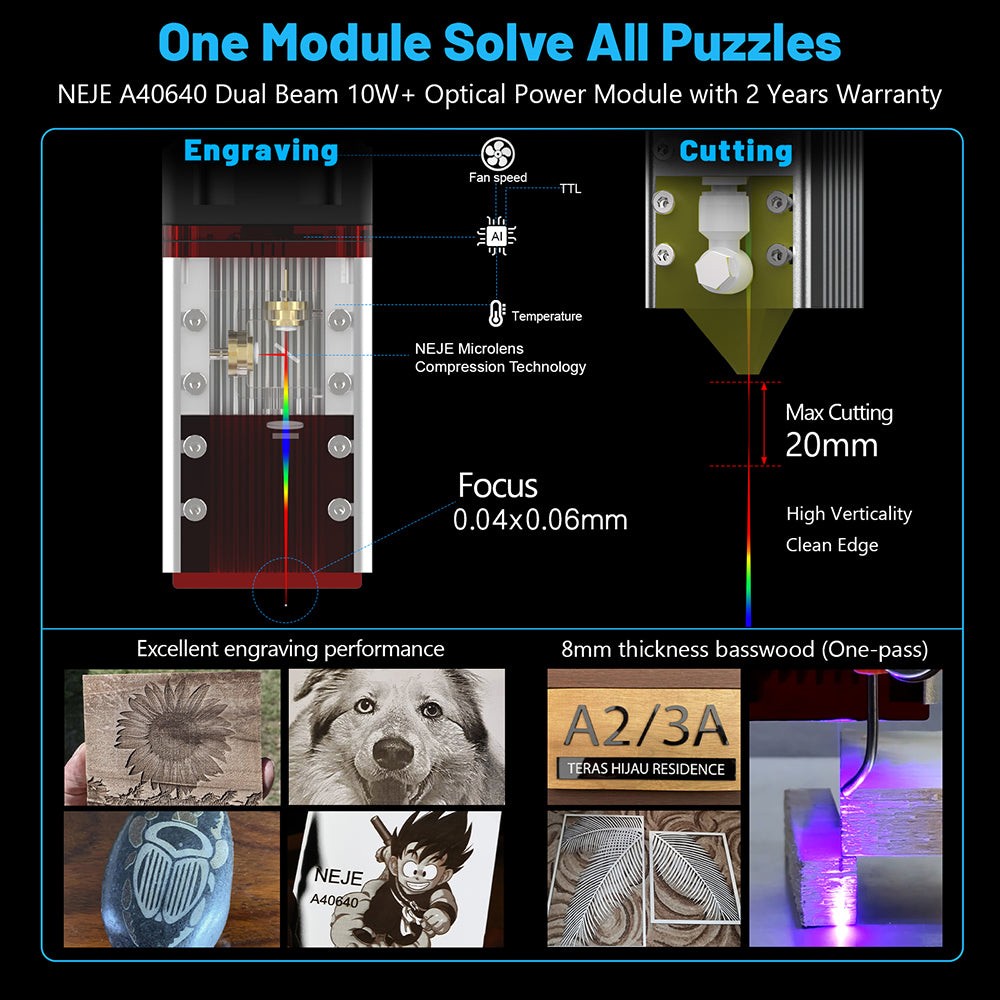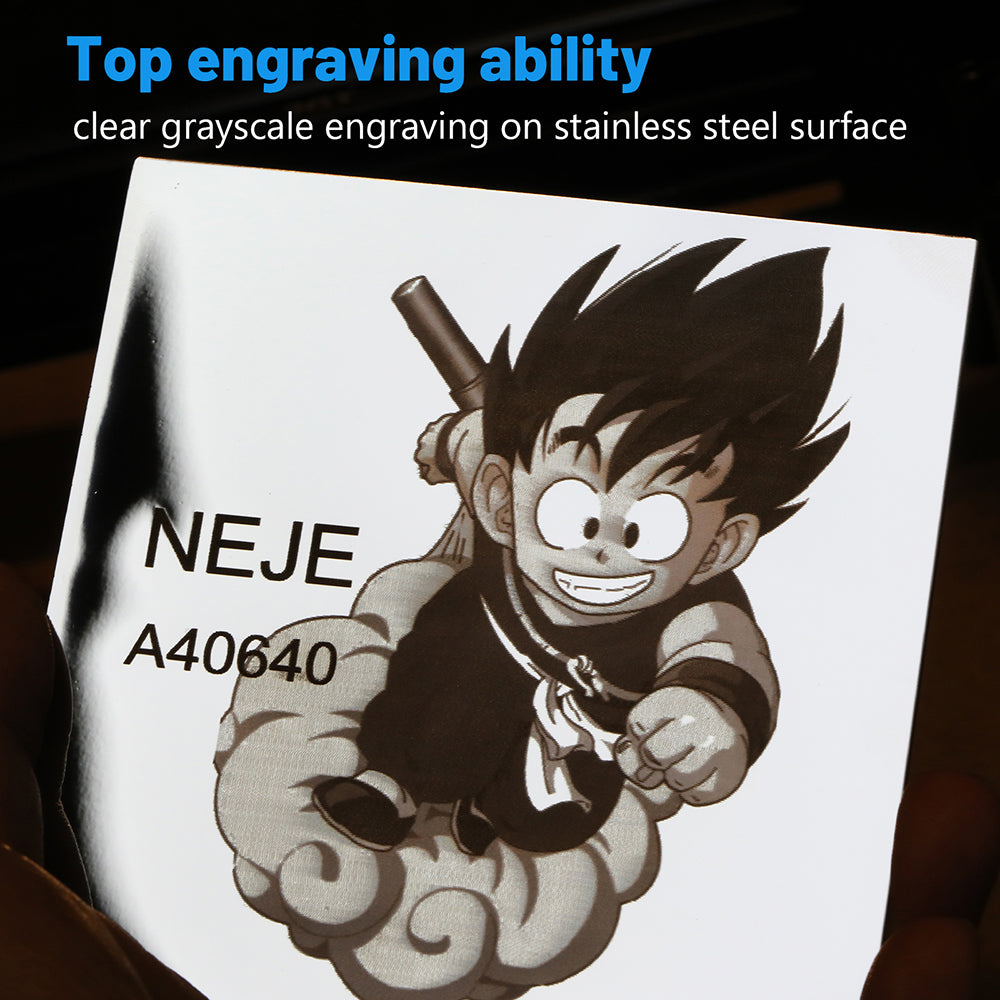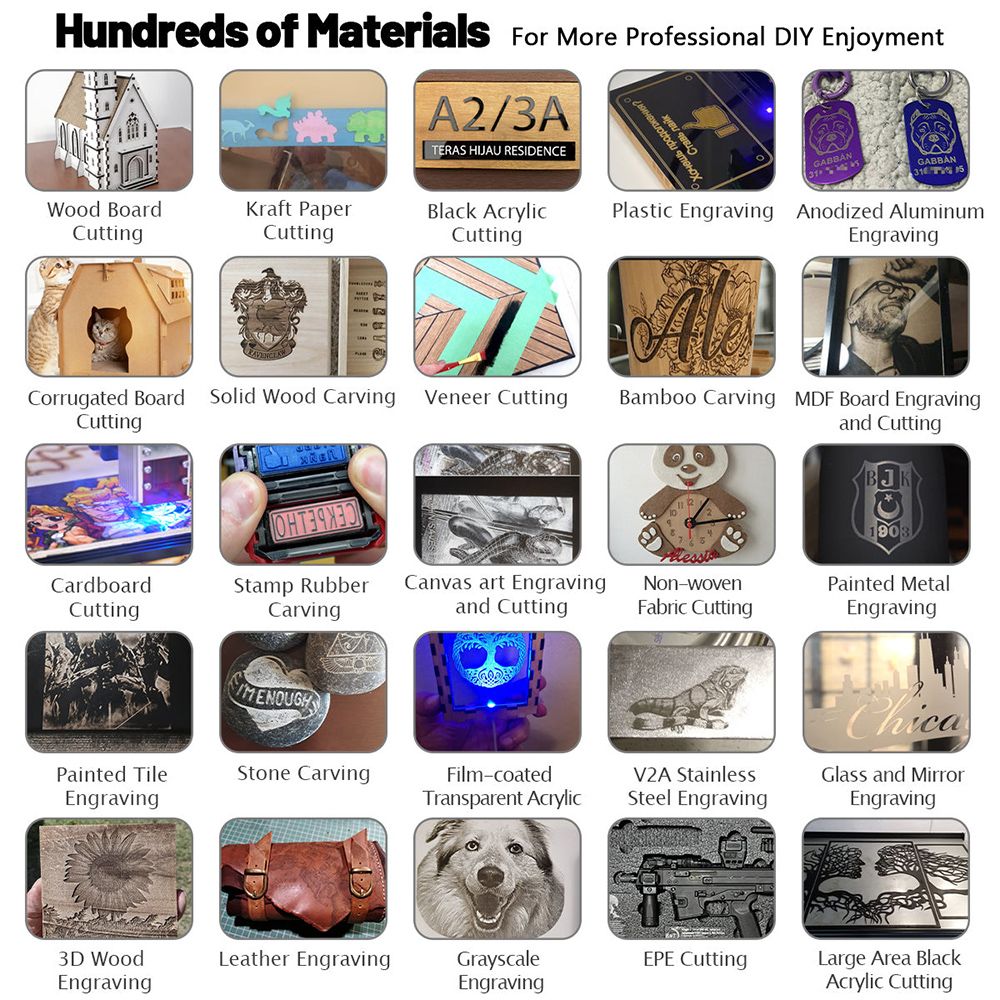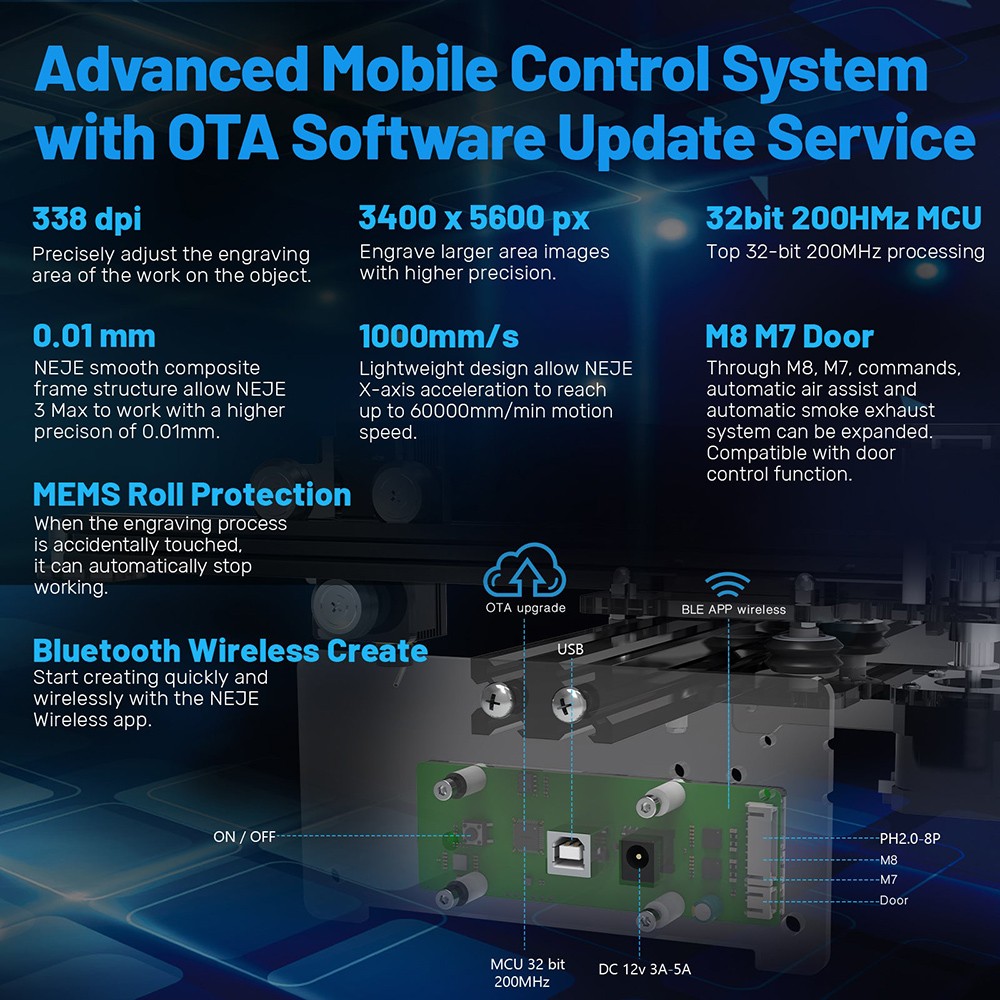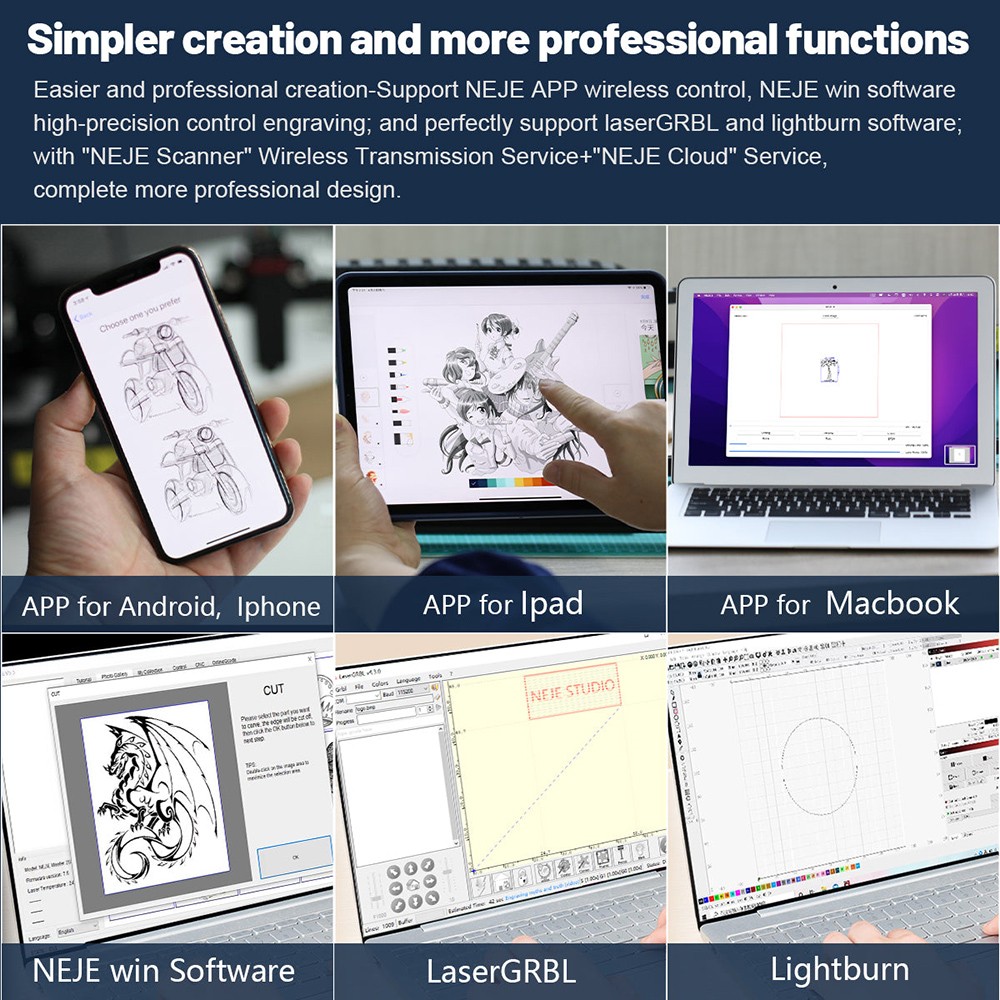 NEJE 3 Plus package:
【NEJE 3 Plus N40630】
 Laser engraving machine x 1
Module x 1
12V3A power supply x 1
European standard adapter x 1
Manual x 1
Red glasses x 1
Tool Kits x 1
【NEJE 3 Plus A40640】
 1 x Laser Engraving Machine
1 x Laser Module
1 x 12V 5A Power Supply (12V 5A with A40640)
1 x Goggles
1 x Toolkit
1 x User Manual